---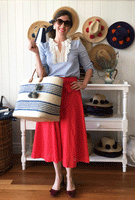 LCA 'Santa Cruz' Red Skirt
Pretty and polished, our new favourite red broderie anglaise is fierce, feminine and beyond flattering!
Details & Fit:
100% Cotton, Cotton Lining
Center Buttons, Tie attached - bow or tie and hang down
Cold Hand Wash
Size Chart:
US 6 (Aus 8-10)
US 8 (Aus 10-12)
US 10 (Aus 12-14)
US 12 (Aus 14+)
Model Wears Size US 6 (Aus 8 - 10)
Tea Length - So named because it is what a woman would wear to the tea table in the 1920's.
Source: Emily Post.