---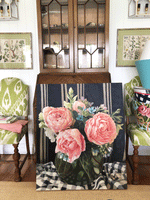 LCA Oil Painting - Peonies in Glass Bowl 
It's all in the detail. 
Thrilled to introduce LCA Artwork to our LCA Decidedly Different Range. 
Unique, Sophisticated & Timeless. 
95cm H x 82cm W, stretched canvas, ready to hang. 
Email for a quote to Frame. 
Position your artwork on it's own, with a plate above, or in a cluster wall. This is a large piece and will also look fantastic in a stairwell, bedroom or guest bedroom, above a fire place or in your front entry, formal or family room. 
For a decorating consult within your home or online Email: ladychatterleysaffair@gmail.com